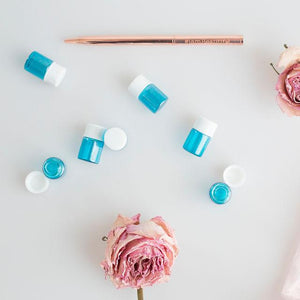 Canada - Glitter Sample Drams
Our Glitter Sample drams are now available in Canada! These open top drams are made to fit into your guest notefolios! Host a Lucy DIY during your class - and send your guests home with a sample! These drams are designed for lubes, without an orifice reducer. They are intended for thicker solutions and should be stored upright.  They come in 12 packs or 25 party packs to match your 25 pack of Notefolios. 
Note: Sample lube drams do NOT contain an orifice reducer. The lid should be fastened securely, and samples should be kept upright. We do not recommend these bottles for shipping oil samples.
 *Canadian Destinations only